There's no longer any need to wait — pre-orders are now open for The Web Project Guide, a the 404-page guide to the entire web project process, written for marketing and project managers to help understand the context within a full-build web project.
Pre-order The Web Project Guide Today.
The Story So Far ... With Socks
Listen. We have socks to give away. They look like this: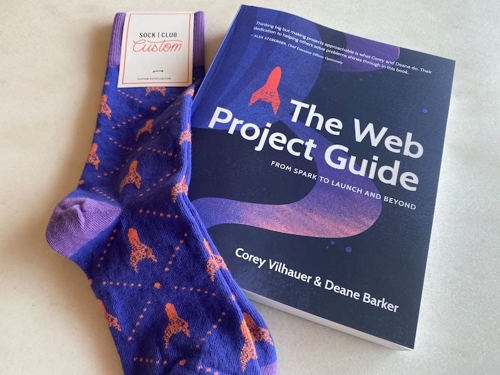 But first, let's talk about The Web Project Guide.
What is The Web Project Guide?
After a couple of years of writing and designing, several rounds of editing and months in the publishing process, The Web Project Guide is ALMOST HERE!
The Web Project Guide guides readers through the web project process, from idea to launch. Over years of business within the web industry, we have read and recommended dozens of resources, books, and organizations — but we could never find anything that provided a high-level contextual view of the entire process.
We saw the gap. We knew the need was there for project managers, marketing teams, and web editors. And with that, we launched our new idea.
Since then, Corey (Blend's Director of Strategy), and Deane (a Blend Interactive founder and Senior Director of Content Management at Optimizely) have been using their years of experience working with clients to create a resource that gives just the right amount of context to the web process. It's not an exhaustive how-to guide — instead the book covers each phase of the web project process with enough information to make smart, strategic decisions.
Simply put, this book will knock your socks off! We mean, like, literally: pre-order The Web Project Guide and you'll get a chance to score a sweet pair of matching apparel.